with Drivetime DJ Andy Walker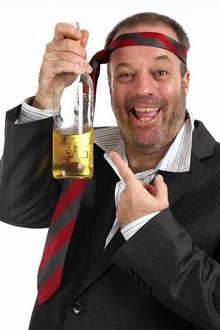 The Christmas party season is upon us and you know what that means – office gossip! Every Christmas party has an incident; Kelly from accounts ends up snogging Kenny from IT or the quiet one ends up busting some dance moves after a few Martinis.
Let's not forget the secretary who always likes a drink and insists on dragging up the younger ones from the office. Then there is the guy who wears his tie around his head like he is Rambo and feels like he is Robbie Williams on the dance floor – but he's more like a typical dad dancing. Then there is the one who stays only five minutes because they "have to be up early" – it's a Friday!
Then there is the straight laced individual who will not drink or even dance. They are happy to be propping up the bar and talking to their work colleagues as and when they approach the bar. How about the couple who are blatantly seeing each other at work but at the Christmas party they make a conscience effort not to talk to each other to 'keep up their story.'
The ones who surprise us the most are those who are very quiet at work and then come a social event they are on a chair singing along to the Christmas classics played by the DJ like they are Celine Dion. Come Monday, they deny they were really "that bad."
Finally there's the woman from marketing who 'really wants the night to last for ever'. It's 1am and everywhere is closed, yet she knows a pub that will probably have a lock-in and so "we should all go there." Those who reply, "no, it's late, I'm going" are branded "boring." In the end and under some protest, she heads home, only to text everyone at the party the next morning to apologise for her bad behaviour.
Whichever one of these characters turned up at your office do - why not give me a call on my Drivetime show and tell me all about it? Only the clean bits of course!