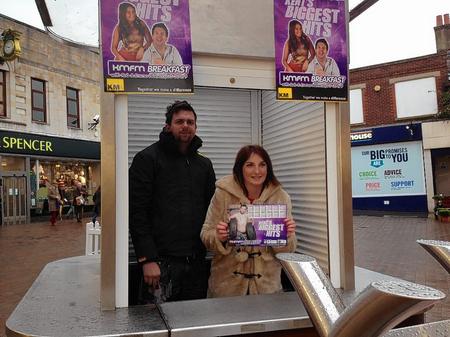 with Drivetime DJ Andy Walker
If you have been listening to kmfm Breakfast with Rob and Emma for the last two months, you will know that Rob has been preparing to get his kit off.
It is all in the name of charity you understand, he is no naturist – although that would make entertaining radio with use of a webcam.
Rewind eight weeks, and Rob's idea of exercising was walking from the kmfm office to his car and lifting shopping bags from his car to his home. Then co-host Emma had an idea to get him fit for Christmas. Have him looking buff and then show off the results. Now are you listening?
So we asked the listeners where they thought Rob's new Peter Andre physique should be shown off. Suggestions included one that his image should be projected on front of the White Cliffs of Dover, or that he should appear in a shop window. The winning idea was a calendar.
So, the challenge was on. Rob had to lose weight and become fit, as in eight weeks time he would be removing his top and having his photo taken for a calendar. Personally, I did not think he would stick to the regime of eating a balanced diet, as normally his breakfast consisted of a packet of Fruitellas and a burger for brunch.
But credit where credit is due. Rob went to the gym six days a week at the Village Hotel Maidstone and was put through his paces. I witnessed his gym instructor Olly walk in with a length of rope as thick as the gorillas swing from at Howletts. Rob was made to swing this using his arms. That must have been tough.
Soon Rob's diet became healthier and his fizzy drinks were no longer consumed and he found this new wonderful source of hydration – water. This would be his new friend, especially after Zumba and spin classes.
Six weeks later and Rob had lost one stone. Brilliant result. He was starting to look different and he remarked how much better he felt, too.
Two weeks later and into the eighth week, it was the day of the calendar photo shoot. The kmfm Breakfast team wanted to recreate an iconic photograph. Ladies, you will remember the 1990s black and white shot of the topless beefcake man holding two tyres?
Rob was to relive that classic pose – at Kwik Fit. With the help of a lighting team and a great photographer – oh, and some grease – Rob did it. He was stripped to the waist, and held up a tyre in each arm and showed off his new guns. Well, I argue that they are more water pistols but he will not listen to me.
So, the calendar is complete and we received them last week. OH DO THEY LOOK GREAT – and you can buy them. Rob and Emma asked listeners to nominate a charity they would like the money go to. The team chose three charities and they are: The Bridge Trust in Tunbridge Wells, which supports the homeless across Kent; Catch 22, 16 plus, based in Ashford, which helps 16- to 22-year- olds coming out of care; thirdly, Foxwood School in Hythe, which helps support pupils with severe disabilities and their families.
I know what you are now thinking: "How do I get myself one of these calendars?" Stay listening to kmfm Breakfast with Rob and Emma and they will tell you how – and thank you in advance for helping us raise money for the charities who are doing such wonderful work.
Rob and Emma are pictured at the top of the page in the centre of Maidstone selling copies of the calendar. On a rain-swept afternoon, Rob certainly pulled in the crowds despite his event clashing with One Direction appearing just around the corner and England playing Brazil in the world cup final on TV!
You can get your hands on one of Rob's calendars – and support the three fantastic local charities in the process – by going along to:
:: Foxwood School reception, Seabrook Road, Hythe during school hours
:: Furniture Warehouse, 9 Cannon Lane, Tonbridge TN9 1PP (Monday to Saturday from 10am to 4pm)