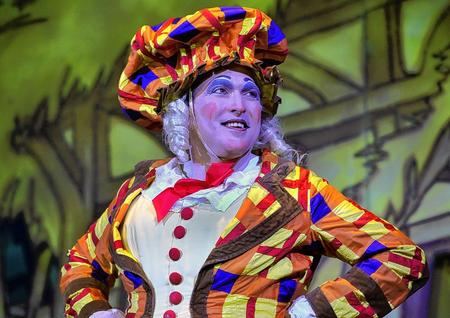 Review: Sleeping Beauty, Marlowe Theatre, Canterbury
by Chris Price
The mark of a great panto is how unscripted those apparently off-the-cuff moments appear. Great writers weave in sequences where things seem to go wrong, that are in fact, carefully choreographed mishaps.
Equally the mark of a great pantomime actor is how convincing they can make these "slip ups" appear. In both cast and script, Sleeping Beauty at the Marlowe Theatre had these qualities in abundance.
Although Gareth Gates and Toyah Willcox carried top billing, the stars were undoubtedly Ben Roddy as Nurse Nellie and Lloyd Hollett as Jangles, whose goofy camaraderie on stage was the source of the vast majority of laughs.
Their well-placed giggles and gaffs – "come on Gareth, I mean Prince Michael" cries Hollett – were only surpassed by the beautifully-crafted and hilarious sequence where the two conversed via song titles. It also afforded Gates and Willcox amusing appearances, the former continually referred to as Darius by Roddy.
A later scene in a booby-trapped bathroom was comedy gold for parents and children alike.
The crowd were even left wondering whether members of the audience were in fact, strategically placed crew members, such was the hilarity of some of the heckles.
"Don't touch it!" shrilly screamed someone at the back as Carabosse, played deliciously devilish by Toyah Willcox, revealed the last working spinning wheel in the land to Beauty, played by Faye Brooks.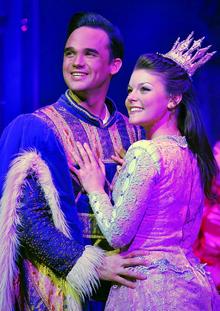 Indeed, the chemistry between Brooks and leading man Gates, playing Prince Michael, was closely monitored by those who have read the revelations about the pair in the press. A tender kiss was certainly convincing and the duets between the Unchained Melody singer and the West End songstress were fab.
A touching moment came shortly before the Ghostbusters song, when Roddy acknowledged "his friend Dave," nodding to the late Dave Lee, who died earlier this year. A legend in these parts, he performed more than 1,000 pantomimes without missing a show, but it is a credit to Roddy as the Dame that this show did not feel any less brilliant without the city's pantomime favourite.
Children's favourite Katrina Bryan, from Nina and the Neurons, and panto stalwart Ieuan Rhys served Roddy and Hollett plenty of opportunity to rib them for their respective Scottish and Welsh accents.
The wow factor is that no expense has been spared by Evolution Productions, demonstrated spectacularly by the dragon, named Helga after writer and producer Paul Hendy's mother-in-law, the show's costume and set designer. Paul's wife, Emily Wood, also produces the show.
As it clawed its way out to the front of the stage, flames shot up, drawing gasps from wide-eyed little ones at the burst of heat. You can't script that.
Sleeping Beauty runs until Sunday, January 20, 2013. Tickets £11 to £30.50. Box office 01227 787787 or www.marlowetheatre.com