Dog and cat grooming courses for beginners and professional groomers in Kent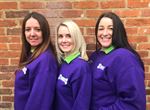 Specialising in dog and cat grooming at all levels, the new Four Paws Groom School in Kent prides themselves on offering exceptional training courses for people wanting a new career or skill within the animal industry. Although the courses at Four Paws Groom School are suitable for all skill levels - from beginners who have never brushed a dog to advanced groomers wanting to learn new techniques or styles. There are also skill refreshers for more experienced groomers looking to further bolster their professional development. Four Paws Groom School is a member of the iPET Network, comprised of training schools throughout the UK and Europe offering dog grooming courses. Branching out from the successful FourPaws Groom School in Cheshire, the latest training school in Ashford opened in December 2018. Sarah Sturley, formerly of Clipits in Sandyhurst Lane, is now the manager of Four Paws Grooming School and joins Fern Gresty and Sarah MacKay.
Special deals for dog grooming in Ashford area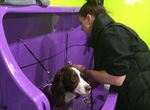 Those enrolling in the courses can learn how to groom their own dog or cat in a day or even complete the hugely popular 26-day Open College Network West Midlands Level 3 Diploma in Dog Grooming Qualification (OCN Diploma). Other courses include an introductory course, foundation course, hand stripping, dog walking, pet sitting, salon experience, breed specific, grooming your own pet, and canine first aid. The lessons are hosted in modern grooming salons, offering a relaxed and calming atmosphere where students are supported by experienced team members who have a passion for pet grooming. The school is not only beneficial to those wanting to learn. Dog models are required for the school's student groomers with a 50% discount for customers. The dog models sought are Scotties, Airedales and Schnauzers (all varieties), Westies and Cairns, Border Terriers, Spaniels (all varieties), Shih Tzu and Lhasa Apsos, Poodles and Bichon Frise, Cockerpoos and Labradoodles.