Book tickets to see Cinderella at The Rylance Theatre this December
Head to The Rylance Theatre in Ashford between Friday 15th December and Saturday 30th December to experience this unmissable panto!
Tickets: £17.00 adult / £15.00 concession
Family Ticket (2 Adults and 2 Children): £60.00
Group Bookings of 10+: For group bookings (Scouts / Brownies / OAP Clubs etc) please call 01233 367399 or email: info@ashfordpantomime.co.uk
Box office: 01233 367399 or 03336 663366 (Ticketsource booking line - £2 telephone service fee applies on this number only)

Click below to book tickets online
https://www.ticketsource.co.uk/ashfordpantomime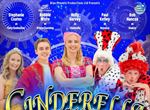 Robbie White, previously of Netflix series Heartstopper, to play Prince Charming in Ashford, Kent
This year's directorial duties will once again fall on Paul Ketley - who will also feature as Beyonce in the show - following his successful pantomime productions in previous years. He is a self confessed pantomime addict and has appeared in many productions around the country. The leads will fall to Holly Harvey (Cinderella) whose credits include Andraste in Boudica and Electra in The Little Prince Musical while Robbie White (Prince Charming) appeared in the Netflix series Heartstopper, where he can be seen regularly as Harry's mate across season 1 & 2. Rob Hancox, who will play the role of Shakira in the panto, is also the assistant director.