Bannatyne Health Club & Spa Ashford is more than just a gym; it is a home for wellness, with state-of-the-art fitness facilities, a luxury pool and a cafe/bar all under one roof. Accessibly located at the Eureka Leisure Park, the venue caters to all individuals and offers everything you need to reach your goals. Experience it for yourself - taster days are available for new members!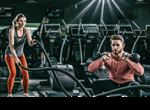 Whether you enjoy an intense, rigorous workout or gentle, flexible exercise sessions, at Bannatyne Health Club & Spa Ashford, you can explore a variety of tailored health and fitness plans. The gym floors boast a mix of classic and ultra-modern equipment, including Technogym SKILLROWs and SKILLMILLs, while those looking for a new, inspiring way to train can discover the interactive Technogym Omnia 8 classes, which cover all aspects of training, including strength, endurance, flexibility, coordination and speed.
Members can choose from a variety of traditional classes, including Aqua and Group Cycling, along with innovative high-octane options such as B:functional, world-renowned Les Mills and more. All classes are complimentary within the Bannatyne membership and can be booked up to three days in advance using the online member portal or via the Bannatyne App.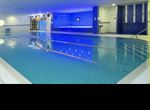 Like all Bannatyne Health Clubs, the Ashford outlet has an indulgent heated swimming pool, saunas and steam rooms. For the ultimate pamper day, why not opt for a luxurious Elemis and Bannatyne treatment from a professional therapist? All members receive a 20% discount on spa treatments, which include massages, manicures or facials. On top of this, the on-site Cafe Bars serve everything from Starbucks and delicious meals to protein products.
Bannatyne Health Club & Spa Ashford strives to offer a seamless customer journey, and this led the team to introduce a new wristband system called B:360. With a B:360 wristband, members can conveniently access the health club facilities, use the lockers, engage with MyWellness and enjoy the simplicity of contactless payment. To boot, the Bannatyne App, available on Apple and Android devices, has been designed to help members boost their fitness training by booking classes on the go, monitoring biometrics, tracking exercise routines and viewing personal records.