Hairdressers In Kent
At The Stylers, we have always provided you with a professional and personal hairdressing experience without the inflated price tag that you can expect from the majority of hairdressers and salons. Our long term price guarantee is what makes us stand out from the crowd, with all services starting at only £9.99, our low prices have always been a part of our ethos and they always will be, The Stylers believe in professional hairdressing without extortionate prices.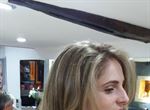 The Stylers In Canterbury
We offer a variety of services to suit you such as cutting, colouring, perming, styling and beauty services which include facials, nail services and more!
Each service starts at £9.99 with the option to add on extras as you go. A popular combination is a ladies hair cut for £9.99 along with a blow dry and colouring for an extra £9.99 each, hairdressing made simple.
We also offer more premium services such as hair treatments, smoothings and extensions. These are all available upon request, just get in contact with the salon on 01227 504738 for more information or to arrange your booking.
There is no need to book or make an appointment for our main services as we always have walk in appointments available with all our professional stylists. Our price promises covers all levels of stylists and services so you know you are always receiving only the very best value for your money with us.
We are located at 43 St Peter's Street, CT1 2BG near the cathedral and a 5 minute walk from Whitefriars. You can also call the salon on 01227 504738.