Bexley RFC has been operating since 1957. The friendly, inclusive club welcomes players of all abilities - from young beginners to sportspeople returning to the game and even those who want to participate in some social rugby to get into better shape. Bexley RFC boasts state of the art facilities and all teams are led by professional, experienced coaches who are dedicated to providing a safe, fun and inspiring rugby education.
Senior teams include First XV, Hermits and Gentlemen. There is also an Under 12s team, as well as Mini Section, Bexley Minions (3-4 years), Tag Section, Under 9s, Under 10s and Under 11s. From tag to full contact sport, there's lots to explore for young players of all ages. Juniors train Sunday mornings from 10am and adults on Wednesday evenings from 7.30pm at the Bexley RFC base, Bexley Park Sports and Social Club.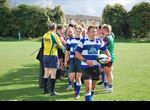 A hub for the local community - and a great place for players to relax, unwind and socialise after training or a game - Bexley Park Sports and Social Club features a fully-stocked bar, kitchen and a large function room available for private hire. Club members can enjoy a host of benefits and there are exciting events held on a regular basis.
Do you live in Dartford, Crayford, Bexley, Bexleyheath and the surrounding areas? Bexley RFC is currently looking for rugby players of all abilities for the upcoming season. Get in touch to find out more!