Modern gym with professional staff and facilities in South Kent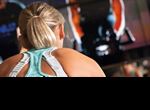 Bannatyne Health Club & Spa is more than just a health club, gym or spa. Catering to everyone's needs whether it's a demanding workout or light jog on the treadmill, Bannatyne Health Club & Spa in Folkestone offers you the very best in minimal time. It's been an exciting time at the centre in Folkestone. The gym was recently upgraded with the latest Technogym equipment alongside cutting-edge functional training. Helping members reach their health and fitness goals is a big priority for everybody at the spa. Bannatyne Health Club & Spa offer an array of social events every year as well nutritional meals, which includes a range of Grenade Nutrition products designed to maximise pre or post-workout pump. Another brilliant offering at the spa and gym are the vouchers and prizes. Out of town? No problem. Bannatyne Health Club & Spa members are members at all Bannatyne Health Club & Spa centres across the UK.
Heated pool, relaxing sauna as well as Spin, Block Fit, Shockwave and Zumba exercise classes in Folkestone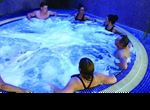 Bannatyne Health Club & Spa is ideal for those looking to unwind after their workouts. Why not enjoy a Kinetica smoothie in the Cafe Bar with a friend? Members can also go for a swim in the 20m heated pool before slipping away for a relaxing spa treatment. Or how about really spoiling yourself during a detoxifying steam or sauna session. The spa provides the ideal release from the stresses of modern life. There is no simpler way to treat yourself than at The Bannatyne Spa in partnership with Elemis. And that's not all. There are personal trainers on hand for the ever-evolving exercise classes that offer everything from Spin and Zumba to Block Fit and Shockwave, all exclusive to Bannatyne.
High quality health club with the latest technology trends in Kent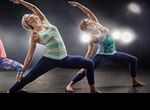 When it comes to online technology and applications, Bannatyne Health Club & Spa is proud to be an industry leader. The Bannatyne Fitness App is available for free on Apple and Android devices and lets members book classes on the go, monitor their biometrics, track their exercise routine and even view their personal records. The app can also connect to MYZONE belts - a bespoke mobile phone app and belt system which allows users to keep track of their fitness progression by measuring heart rate, calories burned and effort all in real time. Bannatyne Health Club & Spa was founded by well-known entrepreneur Duncan Bannatyne known as a business angel on the BBC's Dragons' Den. Opening times are 6am to 10:30pm from Mondays to Fridays, 6am to 9pm on weekends while children's swimming times are daily between 2pm and 7pm.