Grand Kentish Hotel Located on Hythe Seafront
Founded in 1880, the Hythe Imperial Hotel is a grand property overlooking the beautiful Kent coast. As a 4-star hotel, our team are committed to ensuring that each and every guest has a magical experience. Whether you're planning a wedding, looking to book a short break, want to relax in our spa or enjoy a delicious meal, our facilities can cater to all requirements. In recent months we've improved our AA rating, in line with our commitment to excellence, and continue to develop on what we offer customers. We also now boast the tallest chandelier in Europe, installed in 2017 to bring some added sparkle to our beautiful surroundings!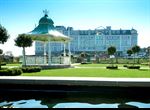 Hythe Imperial in Hythe, Kent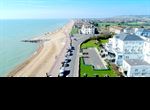 Often referred to as Hythe's 'best kept secret', the Hythe Imperial has undergone major refurbishment in the past 10 years, with our brand new Imperial Ballroom opening in 2014. This sits alongside the Moet & Chandon bar, opened in August 2016 - the perfect spot to enjoy a drink. These updates are all thanks to the current owners, who took over in 2008 and are excited to continue to make the Hythe Imperial one of Kent's finest hotel destinations. Perfect for those looking to enjoy a relaxing break by the sea, the Hythe Imperial is a spot to enjoy all year round.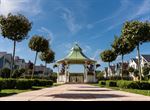 To experience our beautiful hotel for yourself, come and find us on Princes Parade in Hythe, or visit our website at www.hytheimperial.co.uk for more information. Alternatively, for specific enquiries, contact our team on 01303 267441.