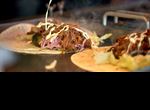 Street Food with extra gusto
The Gourmet Griddle is Maidstone's ONLY Gourmet burger Drive-Thru, and is one of the most exciting new eateries to open in Maidstone in recent months and years. The team at The Gourmet Griddle are obsessed with creating mouth-watering handmade dishes, using the freshest ingredients they can get their hands on! Street Food is their true passion, and their ever-changing menu is testament to that. Whether you're looking for incredible vegan dishes, 28 day dry-aged locally fed Cattle Gourmet Burgers or delightful Biscoff Cheesecake, Maidstone's Gourmet Griddle will definitely be able to cater to your requirements!
The Drive-Thru itself is located behind the Lockmeadow complex in Maidstone, and has plenty of space for parking too. You'll find them open from Tuesday to Sunday (2pm 'til 9pm), and the premises are of course covid-safe, with contactless ordering in place. You can also order online through their website if you live within 2 miles of the Lockmeadow complex (Tuesday to Sunday, 4pm 'til 9pm).

Make sure you're following their Facebook Page, where the Gourmet Griddle team will keep you updated with their latest deals and specials.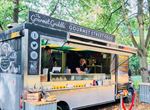 THE MENU
COMBO MEAL £10
This includes a Burger, Gourmet Fries, Aoili sauce, and a drink. All combo meals come with a Toasted Brioche roll, iceburg lettuce and heaps of fried onions.
Here are the burgers to choose from:
ANGUS DOUBLE CHEESE DELUXE

| Beef - double cheese - House sauce.

BACON & CHEESE DELUXE

|

Beef - double cheese & smokey bacon - house sauce

THE SMOKEY GAUCHO |

- Beef - Homemade chimichurri - double smokey bacon & double cheese.

THE "OG" DOUBLE TRUFFLE BURGER

| Double beef, cheese & bacon & Truffle mayo( +£3)

KOREAN VEGAN BURGER |

Asian vegetable patty with red lentil crumb-Kimchi - mango salsa & char sui BBQ sauce.

HALLOUMI & SWEET CHILLI BURGER |

A real decent slab of super crispy panko breaded halloumi.
Looking to GUSTO UP YOUR BURGER? For £4, add a beef patty with double cheese, a pot of 14 hour smoked bbq pulled pork, and a slab of crispy breaded halloumi!
Their HOUSE SAUCE is Mayo, ketchup, mustard, chopped dill pickled gherkin, citrus & secret spices (soon to be famous!) Their AIOLI SAUCE is homeade with mayo, lemon juice roasted garlic & fresh chopped parsley.
BISCOFF CHEESECAKE £4
KIDS CANTEEN (main + fries + drink) £5
CHILLED POP (Classic Coca Cola/ Diet Coca cola/ Sanpellegrino Lemon/ Sanpellegrino blood orange/ Bottle of water/ Blackcurrant Ribena