Blue Ocean Fitness has all your health and fitness needs covered – especially if you're a beginner. The company, based in Maidstone, Kent, offers an exciting range of classes and workout options to discover, from personal training and group sessions to the hottest new craze, POUND® Rockout Workout.
Love playing air drums and rocking out? Want to get fitter and stronger, relieve stress and feel empowered whilst enjoying the best music tracks? POUND® Rockout Workout could be the perfect workout for you.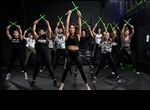 POUND® is a cardio jam session inspired by playing the drums. Using Ripstix®, lightly weighted drumsticks engineered specifically for exercising, it offers an exhilarating full-body workout that combines cardio, conditioning and strength training with yoga and Pilates-inspired movements. With POUND®, beat and alternative movement launch you to new heights of self-worth, happiness and human connection.
The popular workout is designed for all fitness levels and can be easily modified. There are adult sessions, as well as Generation POUND® for kids aged 6-12 – ideal for schools, groups and clubs. All you need on the day is a yoga mat and a bottle of water. You can borrow a set of Ripstix® or invest in your own.
Blue Ocean Fitness' POUND® Rockout Workout sessions are held at Pegasus Gymnastics Club, Tovil, Maidstone, every Wednesday at 4pm, 5pm and 6pm and every Friday at 10am. Pay £6.50 per class or pre-book a set of 5 classes for just £25. This will save you a total of £7.50 on booking 5 classes individually. There's also the option for venues and events to book and host sessions. Contact the Blue Ocean Fitness team today to discuss your requirements!