Yoga Health and Fitness Centre in The Broadway, Maidstone
First established over 10 years ago, The Maidstone Yoga Centre is the perfect setting no matter what kind of fitness, health or relaxation goals you're working towards. Specialising in Iyengar yoga, the centre has recently been recognised as an approved Iyengar Institute, and also as an Affiliated Centre by the IYA (UK) - highlighting the professional nature of our facilities and team of teachers. Whether you want to learn something new, feel better in yourself, or find a moment's peace in a busy week, we offer a wonderful place in which to do it. And it's not just about adults; there are no classes available for children.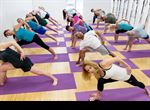 Yoga in Maidstone including classes for children in Kent
The Maidstone Yoga Centre was designed to provide a perfect environment to learn, and a space in which people can enjoy the benefits of yoga, no matter what past experience you have. After moving premises and refurbishing, a process which took almost a year, the centre is now fast approaching its first anniversary in our modern, calming premises. We are proud to attract people from all backgrounds and abilities to our collection of weekly classes. The team of teachers offer a variety of Iyengar yoga classes, from basics to intermediate and experienced.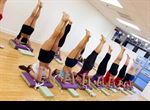 Located at the heart of Maidstone, The Maidstone Yoga Centre is conveniently placed for both drivers and those using public transport - with good parking options nearby.
Why not make the most of one of our free trial classes, to see if Iyengar yoga is right for you? To find out more about our trial classes, or any of our other classes, contact one of our knowledgeable team on 01622 685864, or visit our website at www.iyengar-yoga.co.uk.