Roofwise Contractors are specialists in all types of roofing. Boasting more than 15 years' experience in the trade, this independent, family-run business operates throughout Kent, covering all the major cities, towns and villages. Whether it's a single tile or a whole roof, a listed property or a modern new build, the team can handle any size or style of project and also proudly provide 24-hour emergency call outs.
As a well-established local roofing company, Roofwise offers a professional, highly personal service, with superior solutions to meet every customer's individual needs. The fully-insured contractors carry out all forms of roofing installation, maintenance and repair, and are dedicated to delivering hard-wearing, beautiful results at great prices.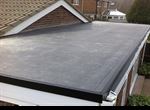 If you're looking for flat roofing, which is one of the most popular choices in the UK, Roofwise supplies a variety of types, including single ply. As well as being extremely durable and weather resistant, single ply flat roofing is 100% recyclable, making it an environmentally friendly and cost-effective option for both residential and commercial properties.
Alongside traditional roofing, Roofwise Contractors specialise in fascias, soffits, gutting, chimney work, porch roofs and garage roofs - not to mention exterior and interior painting. The team of experts are committed to delivering high-quality results that add interest and character to your home. With Roofwise Contractors, you're getting the complete package.