Dentist In Kent
At Hillton Dentistry, we have been providing professional dental care to both NHS and private patients in Kent for over 20 years. We do so with one particular aim in mind, which is to provide everybody with the best possible treatment and care. We offer a variety of services to our patients, including both general and cosmetic dentistry, so that they can both look and feel their best.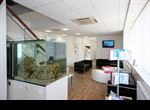 Hillton Dentistry In Sittingbourne
Our services include implants, teeth correction, whitening and more! We also offer non-surgical facial aesthetics and anti-wrinkle treatments. All of our staff are trained to the highest possible standards to ensure that you are receiving the best service and results possible. We also work with well-known brands such as Invisalign, Six Month Smiles, Nitewhite and Daywhite so there is a level of service guaranteed. Find out more about our services.
We are happy to be able to offer Denplan payment schemes, which help to make the costs of professional dentistry more manageable by spreading payments out throughout the year. This also ensures that you get a set of routine check-ups and services throughout the year. The basic plan includes check-ups, X-rays, hygiene appointments and dental advice but there is also the option to upgrade to a higher plan, which gives you extras such as fillings, extractions and more.
We are located in Sittingbourne at 27a High Street, ME10 4AW where you are welcome to come in and book an appointment with us. Alternatively, you can call us on 01795 424994 to get more information or to book an appointment. We hope to see you soon!