Indoor Play Centre In Medway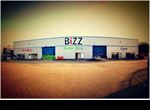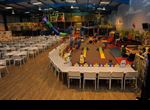 Looking for something new and exciting for the whole family? Monkey Bizz is an indoor play centre which has everything from a fabulous roller skating rink to a brand new Bizz Gym! Monkey Bizz is a great day out and filled with fun activities and facilities to make sure that your kids will have such a good time they won't want to leave.
Safety is paramount at Monkey Bizz and all of our play areas are safe and secure. Parents can sit back and relax in our charming cafe or get active in our fully equipped Bizz gym, whilst their children play in comfort and security.
Whether you want to skate in North Kent's only roller skating rink, work out in our new no-contract gym or even attend one of our exciting weekly arts and crafts activities, Monkey Bizz is a great place for children, and even adults, to unleash their inner monkey.
Our exciting facilities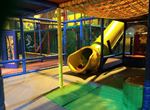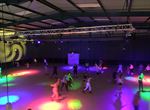 Play centre split into three exciting zones, Monkey play frame (+4 years), Tots Town (under 4's) and Baby Corner (under 1 year)
Work out in our fully equipped gym
Skate to the beat, in our purpose built Roller Bizz, housing our very own resident DJs
Private party rooms and party seating, to give your children a special fun filled Birthday
An on-site cafe, filled with hot and cold tasty treats for the whole family
Get active in our super sports area
Free parking and baby changing facilities
Monkey Bizz indoor soft play centre is split into three separate areas so that children big and small can have fun in a safe, exciting environment. Children over four can run wild in our three story, fun-packed adventure playground, complete with various obstacles, slides, ball pools, aerial runways and much more!
Toddlers will love our tots town, complete with mini maze and even their own ball pit and slide. Even babies are catered for in our Baby Corner, where parents and babies can play in a social, safe environment. For a great day out for kids of all shapes and sizes, visit Monkey Bizz.