Travel back in time and escape the modern world with Kent & East Sussex Railway (K&ESR). Originally part of a large system that operated between Headcorn and Robertsbridge, the K&ESR was the very first 'light railway' to be constructed. Today, it covers 10½ miles between Tenterden, Northiam and Bodiam. The K&ESR is equipped with full-size trains, but as a light railway, it uses a lighter-weight track, has steep gradients and operates at a low speed. It has been preserved to grant locals and visitors alike the chance to experience a key part of Kent and East Sussex's rich heritage.
The K&ESR boasts a unique collection of steam and diesel trains - some of which are approaching 150 years old. Because they are kept in pristine condition, these trains are still going strong in 2021. If you are after a fun-filled family day out or would simply like to explore the outstanding natural beauty of the local area, the light railway is an exciting yet affordable option.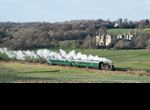 The journey time between Tenterden and Bodiam is around 50 minutes each way, and from 20th July (Covid restrictions permitting), the great value Freedom Tickets allow you to hop on and hop off any of the trains operating on the day of your visit. Many of the trains include carriages with old-fashioned family compartments - perfect if you prefer your own personal space - and you can indulge in your own food and drink or pre-ordered meals whilst on board.
Located at Tenterden Town Station is the award-winning, free-entry Railway Museum, a spot to learn all about Colonel Stephens, the entrepreneur who built and operated the railway. K&ESR visitors can also discover an informative display, with a model railway, that tells the fascinating story of how the K&ESR was preserved, along with a gift shop, refreshments and much more.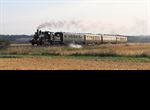 At the Kent & East Sussex Railway, you get the best value when you book online. Tickets are discounted and are usually available until midnight on the day before your visit. However, as accommodation is limited, try not to leave it too late! When purchased online, Freedom Tickets, which provide unlimited travel for a whole day, are £19.50 for adults and £13.50 for children (3-15 years). Family Freedom Tickets stand at £49.00 for up to 4 people travelling together (2 adults and 2 children or 1 adult and 3 children), and dogs are welcome to board the trains for free! Subject to availability, non-discounted tickets may also be purchased on arrival at the station on the day.