High quality street food dining and entertainment that is family friendly in Kent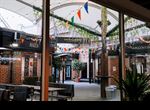 A sociable and trendy dining experience designed for all ages, Central Market is a beautiful pergola covered courtyard that is following a similar model to London's food hall concept. Introduced by The Initiative & Ferras Pizzi with the aim to become Tunbridge Wells' biggest gourmet street food market, Central Market consists of a communal seating area surrounded by an array of gourmet street food and drink outlets. From fantastic wines to modern Asian cuisine to gourmet hot dogs, Central Market is the place to be for fantastic dining and a sheer abundance of diverse and exciting options. Say goodbye to food envy and pick from 12 different and incredible cuisines.
Versatile international cuisine, music and family events at Central Market in Tunbridge Wells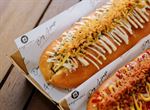 Situated at Royal Victoria Place Shopping Centre in the Ely Court area and with a capacity of 450+ people and piped speakers filling the length of the market, Central Market is also a brilliant entertainment venue. Showcasing raw and authentic talent music is essential to create the idea of the perfect atmosphere and ambience. Central Market aspires to also become an open hub for performers, musicians and DJ's to show the local community their skills and attributes. Central Market is open from 11am until 8pm between Mondays and Wednesdays, from 11am to 11pm from Thursdays to Saturdays and from 10.30am to 6.30pm on Sundays. Seating is available indoors and outdoors where there is also outdoor heating.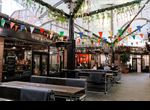 International food and desserts - including Asian, South American and North American options - as well as trendy cafes and wine bars in Tunbridge Wells
Central Market sources local vendors offering fantastic cuisines that's very much in demand within the area including:

Pizza & Pasta - Choose from a fantastic selection of stone baked pizzas and home made pastas. Read More.

Verve Kitchen - Offering a variety of food and drink ranging from healthy smoothies to bagels to cookie dough. Read more.

Wine, Cheese & Charcuterie - A cosy wine bar run by Vicki offering traditional and unique wines as well as specialist cheese and charcuterie pairing. Read more.

Indian Street Food - A great Indian street food outlet for people by Hiron Ali wanting something flavoursome and quick but without compromising on quality. Read more.
Rollin' On Ice - Offering a selection of ready to serve gelato. Different flavours can also be specially prepared and then rolled into perfectly faultless ice cream curls. Read more.

Coffee Shop & Chocolaterie - Groupie runs a cafe like no other offering something new by specialising on the chocolate and vegan aspects of what they sell. Read more.

Bar & Beer - Serving a wide range of serving a wide range of alcohol and non-alcoholic beverages to quench your thirst.

Bubble Waffles, Crepes & Juices - Dessert Island serves everything from sweet to savoury crepes to fresh juices made to order. Read more.

Argentinian Grill - This brilliant eatery has a menu rich in authenticity, with all their meats being brought in fresh from Argentina. Read more.

Burgers - Mini Marlowe is on hand to supply great burgers made with 100% Sussex beef patties including sliders. Read more.

Wok & Sushi - Offering one of the most extensive food menus at Central Market, Wok and Sushi fuses perfectly paired flavours with impeccable presentation. Read more.

Gourmet Hot Dogs - Packed with exciting flavours and vegetarian options, Dog House offers hot dogs like you've never seen before. Read more.