Interior home services in Tunbridge Wells
Established in 1972, staff at BCB Warehouse have all the knowledge and expertise you need when it comes to those essential requirements for your home or business. They supply a wide range of carpets, vinyl and laminate flooring, beds and mattresses - with a free measuring service.
With over 40 years experience every customer is guaranteed only the very best quality from our products, delivered by our fully trained, small group of friendly and knowledgeable staff. We have expanded our showroom recently to offer you more of the high quality products we sell, and we also have a branch in London too.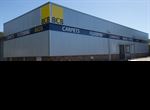 BCB Warehouse, Tunbridge Wells
We pride ourselves on presenting all who shop with us with only the very best products and customer service. We offer a free measuring service for all of our customers, as well as a delivery service to suit your needs. The team enjoy talking to shoppers and delivering an 'old fashioned' service, where we listen to our client's every need to provide them with everything they desire - suited to their specific requirements. Customers can browse our vast showroom to see all the products we have to offer, and to help find exactly what it is they are looking for. You can feel our carpets and try our beds, to make sure it's the right one for you.
For optimal customer service and the best quality products your home could have, pop down to us at BCB Warehouse, Units 1 - 4 Chalklin Business Park, Longfield Road, Tunbridge Wells TN2 3UG or give us a call on 01892 526395.