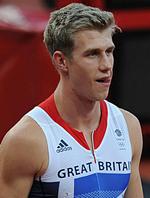 Jack Green has his heart set on making athletics history in 2013 to help banish the memory of his "rubbish" 2012.
The 21-year-old 400m hurdler leapt to prominence by earning one of three TeamGB places for London 2012 but ultimately suffered a disappointing debut Olympic Games.
Green, a former pupil at Brockhill Park School, Hythe, and Mid-Kent College, admitted: "I had a poor year. I was never consistent and it was
not as good as I'd hoped for.
The Maidstone-born Kent AC star added: "It was the most challenging year of my career. From my point of view as a fan of sport, 2012 was an incredible year but it was pretty rubbish for me.
"After the Olympics, I didn't want to talk to anyone and didn't want to think about running. I had lost my love for it.
"I needed a break. I am back in training again now and enjoying running at the moment."
Before the year's major competition, the World Championships in Moscow in August, Green intends to defend the European under-23 400m hurdles title he won in Ostrava, Czech Republic, in July 2011.
The 2013 event is in Tampere, Finland, in July. Green said: "The World Championships in August is the main target for me, it is my main focus and everything is geared towards that.
"But I would love to defend my title in Finland. Nobody has ever defended their title before because nobody usually wins one at their first attempt. It would be nice to make history."
Green unveils the Green Machine Sport talent stable in Ashford this weekend, involving 13 hand-picked talented athletes from across the county.