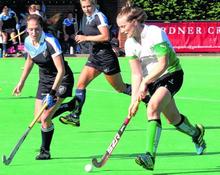 by Alex Hoad
Canterbury Hockey Club's ladies face a potentially crucial double-header this weekend as they seek to close-in on the Investec National Premier Division title.
The leaders visit winless bottom side Slough on Saturday before a trip to second-placed Leicester – who sit just a point behind them – the following day.
With just five games to play following the weekend, Canterbury's Mel Clewlow (pictured) knows that their hopes of securing a top-four finish and also topping the table, could rest on the two games in 24 hours.
She said: "It's a big weekend, no doubt about it. When we have Slough, Leicester are playing (fifth-placed) Hightown. If we could win both games and Hightown lose both, then we could guarantee a top-four place this week.
"We are still unbeaten but it won't mean anything unless we have got some silverware to hold up at the end of the season."
The 35-year-old added: "It's easy to focus on the Leicester game but we can't afford to do that.
"Slough have only got one point and have been conceding lots of goals but we only beat them 2-1 earlier in the season.
"Being top puts the pressure on us and everyone expects us to win, so we will have to focus."
She added: "The media make Leicester the favourites on Sunday and we haven't won there for a long time but it would be good to go up there and play without pressure and get a result."
Do you think Canterbury can go through the weekend unbeaten? Have your say below.