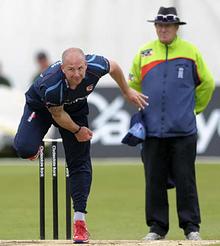 by Alex Hoad
Kent all-rounder Darren Stevens hopes successful spells playing T20 cricket in Bangladesh and South Africa will help him hit the ground running when he returns to Kent for the new season.
The 35-year-old is returning to play in the Bangladesh Premier League for the second straight year, having helped the Dhaka Gladiators win the 2012 title.
Stevens, who was sold back to Dhaka for $30,000, flew out to Bangladesh on Sunday and left a familiar parting gift behind him – snow.
Stevens (pictured) said: "It's the first winter I've stayed here in the cold for years. My missus says that every time I go away it snows and it seems to be true."
He added: "We are a bit of a different side this year. We have gained some excellent players like Shakib Al Hasan but lost some others like Azhar.
"I can't wait to get going. It was a great experience last year and it would be fantastic if we can repeat the success."
The opening fixture pits Dhaka, who also feature former Kent paceman Lasath Malinga, against Khulna Royal Bengals on Friday morning (8am GMT).
After Bangladesh, Stevens plans to take a two-week break in Cape Town, practicing at former club Pinelands and aiming to secure a team for the South African T20 competition.
He said: "I'm hoping to find a dig for a couple of weeks, I have spoken to a couple of people already and we'll see what happens.
"I'll be back in early-March unless I can get a T20 team, in which case it will be the end of March ready for the new season with Kent. Hopefully I'll be back and in good shape and ready to get going."
How do you rate Stevens as a T20 player? Have your say below.