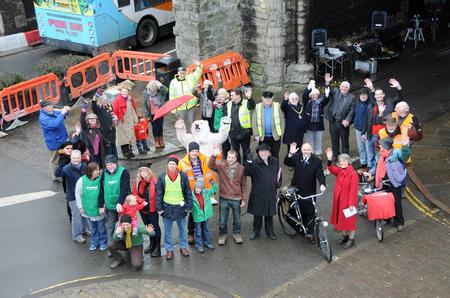 by Jamie Bullen
A blueprint designed to tackle congestion in Canterbury was launched yesterday outside the Westgate Towers.
The published document entitled 'A Sustainable Transport Blueprint for Canterbury' was written by transport expert Dr Lynn Sloman.
Measures put forward to tackle congestion in the city include more regular bus services, cycle paths, car sharing and 20 mph speed limits.
Supporters are calling for the city council and business leaders to put the strategy at the heart of future plans.
Yesterday, at the Westgate Towers supporters formed a human heart by the towers as a message for people to love their city on Valentine's Day.
Among them were Canterbury Lord Mayor Robert Waters and transport executive holder Cllr Peter Vickery-Jones.
Russell Page, from the Canterbury Alliance for Sustainable Travel, said: "This blueprint will provide safe, reliable, alternatives so that people can get around the city without using their cars.
"At the moment a lot of people won't get their bikes out because there is too much traffic, it goes too fast and they feel unsafe.
"With simple measures like designated cycle lanes, lower speed limits on residential some of those people might be encouraged to get their bikes out."
The blueprint is available to read online at www.transportforqualityoflife.com.