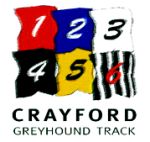 We have an excellent final here on Saturday for the Tony Morris Memorial Rose Bowl run over 380 metres and worth £2,000 to the winner.
Having last week selected a greyhound in each semi to qualify, I managed to get one through in the shape of Blue Glenard, trained by David Mullins at Romford.
While the dog is seeded as a middle runner and would prefer traps three or four, she has again drawn trap six. But she has performed well from this trap so far and I still give her a big chance of winning.
As in all finals, that important trap draw will now play a part – however all six finalists do not look to have been too inconvenienced by the traps that were allocated to them in the open draw after the semis last weekend.
This gives all of the runners a better chance of landing the prize and Crayford still have hope of a home win with Ryves Rock, Gerards Rebel and Selkirk Souter.
Other qualifiers are Droopys Pharaoh, also representing Mullins, and Bush Standard trained by Kelly Findlay at Sittingbourne.
Local favourite Ryves Rock has a plum draw in trap one and he did exceptionally well to qualify from trap four in his semi race last week.
What is slightly worrying is that he has finished second in both his heat and semi races but have no doubt he is class when leading and I expect him to start at decent odds of around 4-1.
The dog has recorded a 23.29 here in the past and if he repeated that sort of run, nothing will get close.
Gerards Rebel from two is likely to start as the outsider and his form book shows he may not quite have what it takes to win. However, he has done well to reach the last six.
There is a whisper circulating for Droopys Pharaoh, who was impressive when winning his semi-final race from trap three in a fast 23.34 – the fastest time that we have seen here so far in the event and largely due to a fast sectional time of 3.56.
He has the same trap again for this weekend's race.
In his heat race he registered 3.61 resulting in a third-place finish so he needs to get a fast exit again but is in with a great chance if he does.
Bush Standard runs from trap four and his semi race was not up to his usual level of performance due to him having trap five. Now in four, he would prefer trap one or two and there must be a big doubt about him winning.
Selkirk Souter won the other semi last week and also won his heat race. Trap five suits him well. Despite these facts the clock says he still needs, to find more time. I would be surprised if he does but he is in this final on merit.
I am still keen on Blue Glenard but have serious concerns about Ryves Rock from trap one.
It will be a great race, so don't miss it.