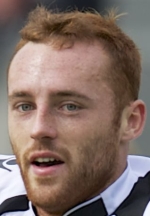 Striker Harry Crawford has rejoined Dartford less than a month after leaving the club.
Barnet signed the front-man in January after an impressive spell with Dartford, where the 21-year-old struck 12 goals in 24 appearances.
Crawford (pictured) signed a three year deal with the Bees but Dartford's lack of potency upfront led them to seeking out their former star man.
Barnet recently signed experienced striker Craig Beattie and fellow forward Dani Lopez, leaving Crawford's chances of first team action limited. He rejoins Dartford in time for their FA Trophy match against Grimsby on Saturday.
A Barnet statement said: "Everybody at the club would like to wish Harry the best of luck as he aims to reach the home of football and we look forward to having him back, scoring goals in black and amber very soon."
Crawford leaves Barnet after making just three appearances and scoring once, in a 2-1 defeat to Bristol Rovers.