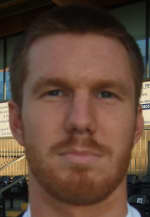 By Steve Tervet
Dartford captain Elliot Bradbrook says it is "now or never" in his bid to play at Wembley and win a major cup competition.
On Saturday, the Darts travel to Grimsby Town for the first leg of their FA Trophy semi-final.
Bradbrook, 28, (pictured) has been part of two promotion-winning sides at Princes Park and could yet lead out his club at the home of football.
While the thrill of reaching the last four has captured the imagination of Dartford supporters, their skipper will not be truly satisfied unless he climbs the famous steps to lift the Trophy.
Bradbrook said: "Everyone wants to play at Wembley. We've got a great opportunity to do that but not only to play at Wembley, we've got an opportunity to go and win the competition.
"When you're younger, you don't realise how important these games can be. I've never got this far in the FA Trophy."
"People are going to be excited about these games against Grimsby but I want to win. If people look back and just say 'we had a good semi-final against Grimsby', what's the point in that? I want to get to the final and win it. I probably won't get to an FA Trophy semi-final again, so it's now or never, really."
Bradbrook returned from a knee injury to play in last Wednesday's quarter-final replay against FC Halifax Town.
He scored Dartford's second goal and then missed a late penalty as Tony Burman's side emerged 3-2 winners on a dramatic night at Princes Park.