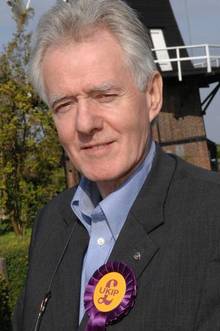 by political editor Paul Francis
A UKIP candidate standing in a Kent County Council by-election has been suspended after claiming mothers with babies detected to have Down's syndrome or other disabilities should have compulsory abortions.
The party said Geoffrey Clark would not be a UKIP councillor if elected.
However, it is too late for him to be barred from this week's by-election as his name is already on the ballot paper.
Mr Clark is contesting a county council division in Gravesend this week and is also a candidate in the by-election for the Meopham North seat on Gravesham council.
But his comments, made in a personal statement on his website, have sparked outrage and been condemned by charities.
Mr Clark said his ideas are suggestions to curb spending on the NHS and are not official UKIP party policy.
He also argues for a referendum on legalising euthanasia and compulsory advice on euthanasia for those over the age of 80.
Disability charity Mencap's chief executive Mark Goldring said he was
"disgusted and shocked" at the manifesto.
"Mencap is disgusted and horrified by the manifesto of Kent County Council UKIP candidate Geoffrey Clark, who has proposed the compulsory abortion of any foetus with Down's syndrome or Spina Bifida.
"it is abhorrent that he sees disabled people solely as a burden..." – mencap chief executive mark goldring
"Much has been written about the Paralympics this summer changing attitudes
towards disabled people for the better.
"Yet in the very same year, a council candidate has proposed forced eugenics against disabled people.
"It is abhorrent that he sees disabled people solely as a burden, when people with a learning disability lead full lives, and make valuable contributions to their communities and families. We question if he is fit for public office."
In his statement, Mr Clark - one of four candidates in the Gravesham Rural by-election - writes that ways must be found to curb spending on the NHS.
"If the NHS in the future is rendered unaffordable, what shall be cut?
"It's no good saying we must cut the national debt, and then keep increasing expenditure, as we are doing. The review might also include: legalising euthanasia and giving free euthanasia advice to all folk over 80 years of age, and indeed to all others."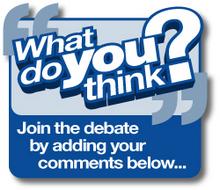 He goes on to advocate that in any review, the NHS should consider "compulsory abortion when the foetus is detected as having Down's, Spina
Bifida or similar syndrome which, if it is born, could render the child
a burden on the state as well as on the family."
Mr Clark could not be contacted, but is reported to have defended his comments, saying he was tired of the NHS saying it should cut managers.
UKIP distanced itself from Mr Clark and said it had instigated disciplinary procedures against him.
A spokesman said he could not be barred from this week's by-election as his name was already on the ballot paper.
"We are as shocked as everybody else is. He will not be standing for us again and we have started disciplinary procedures. We have already apologized to Mencap. These views are not the party's views."