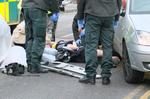 A 13-year-old boy suffered minor injuries after an accident in Northfleet yesterday afternoon.
The accident happened in Deneholm Road, close to the junction with Coldharbour Road, Northfleet.
A police spokesman said: "We were called at 3.30pm to reports of a child in collision with a car.
"The injured person, believed to be about 13, was taken to hospital with what are described as minor injuries."
The boy was conscious at the scene.
Three ambulances and two police cars were called to the scene.
Traffic over a large area was disrupted as police closed the junction.
Queues built up along Coldharbour Road and New House Lane.