A lifelong Doctor Who fan is suing the BBC for breach of copyright after claiming to have created the evil leader of the Daleks - Davros.
Steve Clark, 52, from Calland, Brabourne Lees, has begun proceedings at the High Court in London after failing to come to an amicable solution with the Beeb.
The father-of-three said: "In 1972 I entered a competition to create a new villain for the Doctor in TV Action magazine to win a 17 inch Rediffusion colour television - back then one of those cost a fortune.
"I did a rough sketch which I still have and then a proper version which I coloured in with felt pens and sent off.
"I didn't win, but then three years later my character appeared on the television in the story Genesis of the Daleks.
"I just couldn't believe it - I was so proud my character was in Doctor Who but, I suppose, angry and a bit upset as I had created him and hadn't been acknowledged. All I want now is the recognition."
The judges of the competition included the then Doctor, Jon Pertwee, producer of the show Barry Letts and script editor Terrance Dicks.
At 16 years old when the episode aired, Mr Clark, who lived in Tournay Close at the time, contacted a solicitor but was told nothing could be done.
His original sketch was lost and would not resurface for another 20 years inside an encyclopaedia at his mother's house.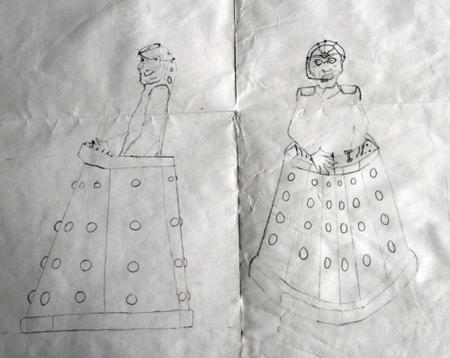 When rumours emerged that the evil Kaled scientist would be returning to the new series with David Tennant in 2008, Mr Clark said he wrote to BBC bosses to ask that he not be used.
He added: "If they hadn't used it I wouldn't be having this argument with them.
"I just want to sit around the table with the BBC; I did not want to take court action.
"It's cost me a huge amount of time and I've done everything possible - I've got hundreds and hundreds of emails dating back to 2007 - I just want to discuss it."
His lawyer Richard Kempner said the last thing they want is a public falling out with the BBC.
He said: "I look at Steve's original drawing and the BBC's Davros character and there are certainly a number of substantial similarities.
"If they have used the drawing, then it's only fair that they acknowledge it."
The BBC has asked for an extension to proceedings while they prepare a case. It is not likely to go ahead until May.