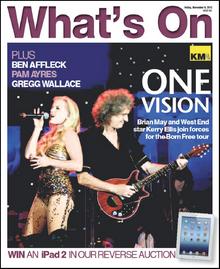 Queen legend Brian May talks about saving badgers and his new intimate acoustic tour with West End star Kerry Ellis.
Win an iPad 2 in our reverse auction.
Masterchef presenter Gregg Wallace talks about a tough year, following a third failed marriage and getting a hefty fine for being caught speeding in Kent.
Plus, Kent explorer Felicity Aston talks about her epic solo journey across Antarctica.
What's On is available inside your paid-for KM Group newspapers every week, including Kent Messenger, Medway Messenger, Gravesend Messenger, Dartford Messenger, Sittingbourne Messenger, Sittingbourne News Extra, Kentish Express, Kentish Gazette, Faversham News, East Kent Mercury, Dover Mercury and Sheerness Times Guardian.
It's also available with digital editions of those titles.
If you enjoy What's On please become a fan on Facebook or follow on Twitter.
To contact editorial please email whatsoneditor@thekmgroup.co.uk or call 01622 717880.
To advertise please call 01622 794520.
To submit a free listing please click here.