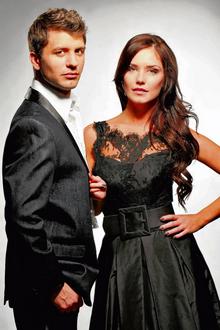 Strictly Come Dancing professional Katya Virshilas has a very big day to prepare for, as Chris Price found out.
The way things are at the moment, it is just as well Katya Virshilas had a disappointing early exit from Strictly Come Dancing last year.
The Lithuanian-Canadian dancer and actress was eliminated in week three of the 2011 competition with Daybreak presenter Dan Lobb, the second person voted off the show.
Yet the break will have done the former Canadian Latin dance champion some good in this mammoth year. Not only is 2012 featuring a fourth outing on Strictly Come Dancing and a UK tour with professional partner Pasha Kovalev, but it also heralds the mother of all tasks – Katya is getting married.
"Thank God for wedding planners," said the 28-year-old, who will tie the knot with Danish dancer Klaus Kongsdal in the summer.
"It is going well. I like to be busy. The busier I am the more organised I am. When I have time off I say 'I will do that later' but when I have got no time I say 'let's do it now' and things get done."
Indeed, Katya will have earned some time to stop and reflect on a life and career which has packed in so much in such a short time. Born in Lithuania to a Jewish family, she moved to Israel at age six and to Vancouver, Canada, aged 13. She was Vancouver British Columbia Dancesport Champion four times from 1998 to 2002 and earned a big break in Hollywood in the Richard Gere and Jennifer Lopez film Shall We Dance? in 2004. She was 17 and training with her dance partner in Vancouver when J-Lo walked in to rehearse for the film.
"The other dancers said I should dance in the film as I was the Canadian national champion," she said. "I got the part and got to dance with Richard Gere."
What followed were roles in Antonio Banderas movie Take the Lead and 2006's John Tucker Must Die.
"Working on Take the Lead was very inspirational. I choreographed it and it changed my life."
Even when Strictly came along, Katya faced lots of changes, despite decent runs on the show with ex-cricketer Phil Tufnell and rugby star Gavin Henson. Her professional partners changed each year, firstly from Brendan Cole to Artem Chigvintsev and then in her third year to Pasha Kovalev.
Yet she is settled with her current partner and does not begrudge his storming run to the final last year. So was she disappointed when she got Dan Lobb?
"Yes I was. I won't even lie," she laughed.
"It is like a lottery ticket. You don't know and sometimes you think the person you have got is bad but they turn out to be great."
For the next series of Strictly Come Dancing, Katya has very clear credentials she wants her next celebrity dance partner to have.
"I want someone who is my height, not too tall" said the 5ft 5ins dancer.
"I want someone committed to it and who is doing it because they want to. If you are a celebrity you have got to want to do it. They also need to be hard working and absolutely lovely."
A brilliant cook as well as a top dancer
The way to a man's heart is through his stomach and Katya reckons she partly snared her husband-to-be because she is a dab-hand in the kitchen. It is a passion of hers she does not get enough time to indulge because of the diet required in her work.
She said: "You have to be strict. You need to eat well but also healthy. If you eat a lot of sugar you have to burn it off and you need plenty of vegetables.
"I love food and I hate dieting. That is one of those things not a lot of people know about me. I'm a very good cook. I challenge anyone to a cook-off.
"My signature dish would be some kind of Russian food, like Russian meatballs. They are much bigger. More like cutlets."
35-date run
Katya and Pasha's UK tour visits three Kent venues on its 35 date run.
"This is good because it is such an intimate show in small theatres," said Katya.
"We take the audience on a journey around the world doing all different styles of dance. We are going to have clippings from Strictly and do the dances the audience know from the show and have amazing guest dancers. There will be lots of audience participation."
Stars of Strictly Come Dancing Katya Virshilas and Pasha Kovalev bring their professional dancing show to Tunbridge Wells' Assembly Hall Theatre on Tuesday, March 27. Tickets £20. Box office 01892 530613. They are at Chatham's Central Theatre on Sunday, April 1. Tickets £22, £20, children £12. Box office 01634 338338. They perform at Dartford's Orchard Theatre on Saturday, April 14. Tickets £26.50, concessions £2 off. Box office 01322 220000.