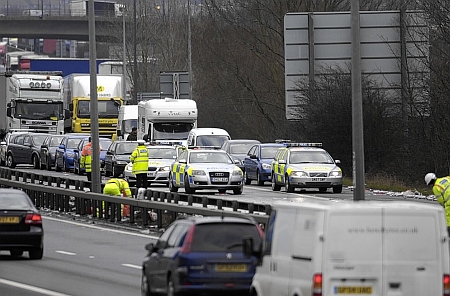 The amount of time motorways in Kent are closed for after a crash could be cut by laser scanning technology.
Millions of pounds are being spent on scanners which produce 3D images of crash sites.
They save investigators painstakingly surveying multiple sections of a scene – a process which can take several hours.
Instead, digital images can be viewed remotely on a computer screen, allowing investigators to measure distances between vehicles and other objects and examine important evidence left at the scene.
Assistant Chief Constable Sean White, of the Association of Chief Police Officers, said: "Police forces acquiring this equipment will be in a better position to manage such critical events in a more efficient way and present the most accurate and detailed evidence from the laser scanning devices to criminal, civil and coroners' courts.
"The equipment will be deployed day and night and will make a real difference to improving the capability of collision investigators, reducing delays for all road users and re-opening motorways and other strategic roads at the earliest opportunity."
In 2010, crashes caused more than 18,000 full or partial motorway closures, lasting a total of more than 20,000 hours.
The scanners cut clear-up times by an average of 39 minutes.
Roads minister Mike Penning added: "There's nothing more frustrating than being stuck in a traffic jam for hours on end. But even worse than that is the shocking £1bn cost of those lost hours for our economy. That's why we're determined to improve the clear-up of accidents so we can get our motorways re-opened as quickly as possible."
In total, 27 police forces in England and Wales have been awarded £2.7m by the Department for Transport to help pay for the equipment.
Kent Police will get a total of £160,000 to pay for two scanners.