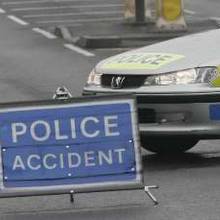 Firefighters had to cut a man from a car after an accident in Jeffery Street, Gillingham, last night.
Two cars crashed at around 6.50pm, leading police to close the road close to Gillingham station for around an hour as fire and ambulance crews dealt with the incident.
The roof of the Vauxhall Vectra, which the man was stuck in, was cut off by firefighters and he was taken to hospital.
A family with a small child in the other car were unharmed in the crash, but they also went to hospital for check ups as a precaution.