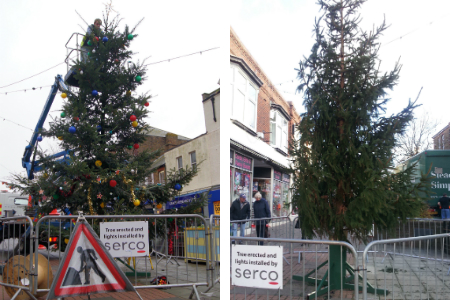 A bungling council has removed a Christmas tree dubbed the worst in Britain - and replaced it with another fir slammed as its "ugly twin".
People in Herne Bay were left fuming and even booed when the original tree was unveiled two weeks ago in front of a 1,000-strong crowd.
Onlookers spontaneously broke into boos and jeers when the anti-climactic lights - which barely covered the tree - flickered into life.
But locals were left even more furious when the council decided to replace the tree with another that "looks even worse".
The replacement came the day after local school children had hung decorations they had made themselves on the tree.
"they replaced it with a tree that looks even worse or just as bad as the other..." – karen truelove
Karen Truelove, 25, who helps runs her family greengrocer, said the new tree was "disgusting" and like the other's "ugly twin".
She said: "It is just shocking. I can't believe they have done this.
"The old tree looked bad, but some local school children had been called in to decorate it and it was looking better.
"Then the council came and it took it down. They replaced it with a tree that looks even worse or just as bad as the other.
"Some people say it looks like its ugly twin. It is a real shame the tree is just bare at the moment. It is the children I feel sorry for.
"They should have a beautiful tree to look at during the Christmas period.
"Also the school children must feel bad after they had just decorated it."
Canterbury City Council spokesman Rob Davies said: "The council agrees that the tree in Herne Bay this year is not good enough and we have taken steps to install a new one.
"We also welcome the interest from the business community about getting more involved in the lights in the future.
"The council's budget for lights across the district this year is £56,000. Media reports of a higher amount are incorrect.
"The budget is the same as last year, and in these very difficult financial times, we believe it is a significant amount.
"We're currently looking at the way we fund and organise the Christmas displays in future years.
"We are planning to purchase some new lights next year and to work with town centre partnerships, businesses and community groups to find new ways of delivering great Christmas lights despite significant year-on-year reductions to the council's budget."
Town manager Chris West said: "Children from across the town came to hang up their lovely decorations.
"We didn't want to cancel the event as many had planned it well in advance and their decorations will be carefully moved to the new tree."