A nurse at the Kent and Canterbury Hospital wept after escaping an immediate jail sentence for his "dirty little secret".
Junkie Matthew Waller, 33, stole drugs from the ward to feed his growing morphine addiction – which he blamed on depression.
Waller – who is still fighting to continue to practise nursing – confessed to police officers after his arrest that his thieving was "his dirty little secret".
Prosecutor Donna East told Canterbury Crown Court that his thefts only came to light when he forged a hospital drug record claiming to have given a patient morphine.
What he didn't know was the woman had died before he said he had administered the medicines.
At first, Waller claimed he had turned to drugs to deal with the breakdown of a relationship – but admitted later that was a lie to cover up his depression.
Waller, of London Road, River admitted seven charges of theft, forging records and possessing drugs. He was given a suspended jail sentence and ordered to do 200 hours of unpaid work.
Mrs East said: "At the time of these offences he had been employed as a nurse in the trauma and orthopaedic ward at Kent and Canterbury Hospital."
She said a junior sister spotted irregularities in the patients' controlled drugs book and alerted senior staff.
Waller immediately admitted what he had done, telling colleagues and broke down saying: "There is no point lying because I have done it. I have been really stupid. I have betrayed everyone's trust."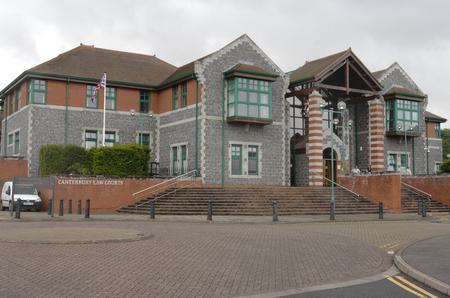 Police later raided his home and found a variety of drugs taken from the hospital – and again he blamed it on a girlfriend who had dumped him in February 2012 for another man.
He claimed he didn't want to turn to alcohol to cope with the loss because his brother had suffered a tragedy through drink.
His barrister Jason Dunn-Shaw said: "The most absurd and bitter twist is that had he gone to a doctor then none of this would ever have happened because he would have been given medication to deal with his depression.
"He told the lie because it was easier than admitting that he was lonely, vulnerable, with no friends and missing his family."
"there is no point lying because i have done it. i have been really stupid. i have betrayed everyone's trust" – nurse matthew waller
"He has a personality issue involving low self-esteem. But despite the drugs being highly addictive he has now weaned himself off them."

The barrister added: "But the only victim here is himself. He is described as an extremely kind, hard-working nurse, who was dependable and well regarded and a highly-valued member of the team.

"At no time was any patient deprived of any drugs by his actions."

Waller – who qualified as a nurse in 2002 - said he initially took "waste" medicines destined for destruction but after suffering withdrawal symptoms began taking other drugs, including sleeping tablets.

He estimated he had injected at least 80 vials of morphine."

Mr Dunn-Shaw said Waller has since been sacked from the K&C Hospital, but faces an enquiry in front of a professional nursing body soon, which will decide his future with the NHS.

"He feels remorse and shame. This is a tragic case, " he added.

Judge Nigel Van Der Bijl, in giving him a 15 month jail sentence suspended for two years, said: "I have this only anecdotally but I am told there are a lot of thefts from the NHS."