by political editor Paul Francis
Candidates bidding to become Kent's elected police commissioner are spending thousands of pounds of their own money on their fighting funds.
Details of donations that five of the six candidates have so far received - along with information about other income and help - have been provided to the KM Group after they were challenged at a hustings meeting this week to declare how their campaigns have been funded.
The disclosures of donations reveal the extent to which some of the candidates are dipping into their own pocket to help boost their campaigning and how many have become a family affair.
They also show that candidates from the political parties are relying heavily on support from activists and local associations.
The documents provided to us show:
Ann Barnes, one of two independent candidates, has spent some of her late parents' £50,000 legacy to become commissioner and has been helped by a £2,000 donation from her daughter
Craig Mackinlay (Con) has contributed £10,000 from his own pocket to further his campaign and received nearly £5,000 from his father, along with about £10,000 from various Conservative constituency associations
Harriet Yeo (Lab) has received a £10,000 donation from the TSSA union for which she works and £2,500 from UNITE union
Dai Liyanage (Independent) has spent £4,800 on billboard posters at 20 sites across the county and borrowed £5,000 from his brother for a deposit
Steve Uncles (English Democrats) has spent £6,000 of his own money to cover the deposit and for travel costs
A spokesman for UKIP candidate Piers Wauchope said he would be submitting his election expenses at the end of the campaign as required under UK rules.
The two biggest spenders to date are Ann Barnes and Craig Mackinlay, who are considered front-runners in the race for the £85,000-a-year role.
Ann Barnes is out in front with total funding of £67,900, the bulk of which has been £55,000 from her own savings.
Writing on her blog, she says: "I was saving this for 'a rainy day'. Well, that 'rainy day' has come, so I've put in their £50,000 to fund my campaign to literally save Kent Police.
"My dear Dad was a real 'man of the people' who gave a lifetime to helping others and encouraging them to stand up for themselves and what they believe in. I know he would consider it money well spent and he will be so proud of the stand I am taking and what I am trying to do."
She also takes to task those who she claims have been spreading untruths on the internet about the source of her income.
"Some people seem intent on trying to suggest that my campaign could only be so strong if it were funded improperly. This is totally untrue."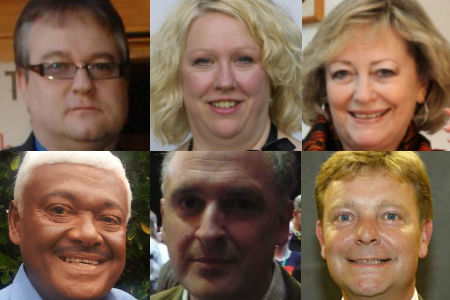 Conservative Craig MacKinlay has spent £48,690 to date, including making his own contribution of £10,000 and a further £5,000 from his father.
Writing on his blog, he said: "The election of a Police and Crime Commissioner must be transparent, and those financing our campaigns must be open to public scrutiny."
There has been criticism of the government after it refused appeals to pay for all candidates to send an election address to voters in their area.
Several independents say they are at a disadvantage compared with party political candidates, who are able to call on the financial support and backing of local constituency associations and their national party.
By law, all commissioner candidates are required to detail all their election expenses but not until after polling day.