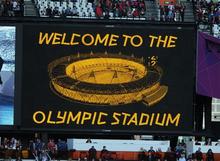 by Alex Hoad at the Olympic Stadium
00.30am - The lights are up, the music has stopped and yet nobody wants to go.
Literally a couple of thousand athletes scrabbling round in the middle of the stadium floor taking pictures and trying to get close to the flame.
The vibe among the athletes here is, if possible, even better than it was a few weeks back. They all look just so damn pleased to be here.
I know how they feel. Night.
00.15am - Morning. The flame was carried to the stadium by Joe Townsend, a Royal Marine who lost both legs in Afghanistan after treading on an IED.
He was 17 and five months into his first tour when it happened but he has swiftly become GB's bright medal hope in the triathlon which will be introduced in Rio in four years time.
The flame was then run around the stadium to the cauldron by visually impaired GB footballer David Clarke before it was lit by Margaret Maughan, the first British Paralympic gold medallist in Rome in 1960.
With the petals reforming the gorgeous cauldron the Games are really back and we enjoyed a celebratory song courtesy of Beverley Knight - I am What I Am, something which a cast of thousands were able to sign the words to thanks to our lesson at the start of the evening.
Spectacular way to finish with an unfathomable number of fireworks.
11.56pm - With Miranda's journey to enlightment over. We're looking at footage of the flame's journey to London.
Stephen Hawking wishes everyone good luck and HERE COMES THE FLAME FLYING THROUGH THE SKY.
11.54pm - Looks like we're going to end a smashing night with Miranda smashing through her own glass ceiling. This is what it has all been about.
11.51pm - The red atoms are actually tents belonging to protestors. Miranda has learned so much about the world that she's become a Human Rights protestor.
There's a march coming, some music from Orbital and a performance of Spasticus Autisticus by the Graeae Theatre Company.
11.47pm - Sir Ian is back and he's got more Tempest quotes and is telling Miranda to be who she is and help to change the world.
We're gradually catching up to 2012 and professor Hawking is about to tell us all about current scientific advances like the Large Hadron Collider – into which the stadium is about to transform.
11.42pm - Gravity is next. More science and more learning hopefully.
Miranda explores a maze of books in a nice old garden and learns about Sir Isaac Newton, gravity and the laws of motion.
And now the luck 62,000 apple holders get to tuck into their treat along with Miranda.
As everyone crunches away in unison a whopping great golden apple appears and I can't begin to describe what that sparks off.
It should be pretty spectacular though. Dancing and juggling and wheelbarrows of inflatable helium apples. A sight to behold, I'm sure.
11.32pm - This bit is called Navigation and will see Miranda setting sail in an upside down umbrella ella ella.
There's going to be a 17m inflatable whale, I'll warn you now. It might be a distant cousin of Fatboy Slim's Octopus.
There will also be a flock of seagull books and eventually a whirling storm of ideas which will culminate in a whirling dance by contemporary whirling dancer Ziya Azazi.
Once Ziya's calmed the storm a bit we'll get some nice singing from a young lady called Birdy. She had a big hit with the haunting song Skinny Love last year. Y'know, the one everyone now copies on TV 'talent' shows.
Once she's done there's still time for more dancing, an aerial ballet by 20 deaf and disabled volunteers and a flying David Toole, a disabled dancer and performer.
11.25pm - Phew. Ok, back to Miranda, curious and full of wonderment if you remember.
The Stadium is transformed into a giant library so Miranda can read about reason and rights – the twin themes of the ceremony.
The giant umbrella will become a reading light and hundreds of volunteers will read from The Universal Declaration of Human Rights. Reading is good - that's the message of some video on the screen.
Stephen Hawking is back to tell us how important knowledge is before soprano Elin Manahan Thomas performs Handel's Eternal Source of Light Divine while a 'sunrise' brightens up the whole stadium.
You might not believe me, but six Paralympians will fly towards the light and then we'll get a touch more Shakespeare. Taken from the Tempest, Miranda will remind us 'how beauteous mankind is' – which we definitely do need reminding of from time to time.
11.15pm - Her Majesty the Queen declares the games open and appears to set off some fireworks too, though it may have been someone else.
11.10pm - Seb Coe - "Welcome home to the Paralympic Games. Tto my countrymen I say, prepare to be inspired."
Sir Philip Craven, Chairman of the IPC - "What happens at these Games has the energy to change every one of us."
11.02pm - It's about time we got these Games opened, wouldn't you say? Time for the speeches and ceremonial stuff like flags and oaths, with some classical music from Holst thrown in for good measure.
11pm - We're back to the Ceremony and soprano Denise Leigh, winner of Operatunity, is performing a song called Spirit in Motion. Words are signed by deaf actor Deepa Shastri.
10.57pm - Incredible. Great moments. You could see them buzzing with excitement.
Absolutely rapturous cheers for Paralympics GB and David Bowie's Heroes blaring out at full volume. Several billion bits of coloured paper in the sky, fireworks, the whole shebang.
Very special.
10.46pm - Vietnam.... it's going to be worth the wait, I can sense it.
10.39pm - Ok. After the USA there are eight before GB.
10.27pm - Spain. So close.....
10.09pm - Lebanon. Not too long.
9.27pm - These DJs really are mashing things up. All sorts of global music to make you shake Djibouti.
Sorry.
9.22pm - We're at the Czech Republic. Apparently the TV ads are annoying viewers. Sorry about that. They're still parading though!
9pm - This section is called Spirit in Motion – the motto of the Paralympic Movement – and it is the cue for 166 nations to flood into the Stadium for the athletes parade.
They'll be accompanied by what I am reliably informed will be a 'global music mash-up' created by three London DJs, DJ Walde, DJ Excalibah and Goldierocks, which is actually a decent name for a little blonde girl DJ, which she is!
Apparently the costumes of the volunteers have been actually graffitied by edgy, urban aerosol artists.
This will go on for one hour and 15 minutes. Paralympics GB will be out last of all, fitting tradition. Looking forward to that if the Aussie reception is anything to go by!
8.58pm - Couple of really nice touches to mention. Before the anthem, the tannoy announcer said 'for those who can, please stand for the national anthem.'
Then there was a very visually beautiful sign language version of the anthem alongside a signing choir. The words signing and singing next to each other - a journalist's nightmare.
The SINGing choir included 77-year-old Eve Stephens who attended every day of the 1948 London Olympics.
I'm going to start warming up incase I'm needed for Jupiter 2064.
8.47pm - I know what you've been waiting for. It's the most famous Royal of all, isn't it?
Well Harry's been grounded so here's the Queen instead.
8.45pm - The volunteers turned into a big eye. I promise you. And they're show us all sorts of mechanical objects.
One is Newton's apple, one is a copy of the Universal Declaration of Human Rights and one is a pulsating ball of energy which represents the Higgs particle.
This is a good way of blagging a rudimentary understanding of science people, go with it. It's also very spectacular and colourful.
Sir Ian McKellan popped up briefly to read some Shakespeare. It's compulsory at these things y'know.
8.34pm - You've heard him talk about it, now let's go there, courtesy of this giant umbrella, 600 volunteers with mini-brolleys and some clever fireworks which transfer from the air onto the video screens.
Those brolleys are magic, a minute ago they were stars and planets and fireworks, now they're just brolleys as we're transported back to soggy old London.
But at least we have got Flawless of Britain's Got Talent 'fame' to dance us back to happiness.
8.31pm - Here we go.
The opening section of the ceremony is named Miranda – named after a character which aims to encourage us to look at the world with a sense of wonder and curiosity... pretty much what I do for a living then!
Acclaimed physicist Professor Stephen Hawking will appear on the 'moon stage' to talk about the origins of the universe. Adam and Eve will not be present, it's all about The Big Bang.
8.25pm - Five minutes to go and we're seeing some hugely thought-provoking videos on the big screen.
Fun and Games, with a message.
8.15pm - Such a nice and unexpected touch here. We're receiving a short lesson in sign language, with visual descriptions of the signs for the visually impaired.
We're learning to sign: "I am somebody. I am what I am."
8.10pm - Every member of the audience has been given an apple tonight so they can join in with a little interactive fun later on.
I have not been given one. Clearly I am not in the 62,500 most important people in this stadium.
It's good that I've been made aware of that.
8.00pm - Half an hour to go. Atmosphere is rising nicely. How about an 8pm fact?
The Paralympic flag, first seen in Athens in 2004, is made up of three asymmetric crescents - Agitos, which means 'I move' In Latin.
They are red, green and blue because they are the three most popular colours on world flags.
Knowledge is power!
7.52pm - Welcome to the Games. The Paralympics are coming home. This is history. Thousands of volunteers need thanking... this crowd warm-up guy knows how to extract a few cheers from this crowd.
Now a Mexican Wave. Textbook stuff sir!
7.40pm - The sun is setting, the skies are clear and it's getting cold, but the music is getting louder and the video screens are showcasing the best of the Paralympic sports and their competitors.
I've just gone through the entire programme for the ceremony. It's going to be visually stunning, there's no way it couldn't be, given what they're doing. And I tell you what, I bet we all learn something from it too. If your kid has got brain fuzz from five weeks of the holidays then make them sit down with you, watch, and learn some stuff about the world, and people.
6.50pm - I'm good at secrets but it seems not everyone else is, so I can confirm that Stephen Hawking will guide us through the proceedings a little later on.
The musical selection is very, err, eclectic too. If you're eight or 80 I reckon you'll find something you love.
One of the things about this summer is the fantastic British music that has been played, not just in the ceremonies, but also in the venues before and after events.
We've been treated to everything from Pulp to the Desert Island Discs music already this evening. And I can tell you this now, there is PLENTY more to come. And not just music, dancing too, the choreography promises to be flawless!
6.30pm - I can't tell you what a pleasure it is to welcome you back to the Olympic Stadium for the Opening Ceremony of the London 2012 Paralympic Games.
The memories of the glorious Olympic Games have yet to fade but we're hungry for more and so the eyes of the country, and the world, will be back on London tonight for what promised to be a truly spectacular event.
Just as I was on July 27th for the Olympic Games Opening Ceremony, I am sworn to secrecy about the things which will be happening later on, but if you promise to keep it quiet I'm sure I can drop you a few hints along the way.
What I can tell you is that the rain has stopped, hundreds of volunteers are drying the thousands of chairs and the grey sky is slowly turning blue. This is good.
The stadium itself looks out of this world and very different to the two ceremonies we've seen in here before.
The colour blue is far more prevalent than we've previously seen it but one thing that remains the same is the stunning cauldron which is away to my right.
The copper petals which came together to form the flame are wilting outwards and just missing one thing. One hot, bright, orangey thing which I think is about 10 miles away on the streets of London right now.
Please also join me on twitter - @kentonline2012 - where I'll provide you with some pictures from a view which the cameras will not bring you.
We're off at 8.30pm but I'll be back well before then!