A shopper has been left stunned after spotting this rude carrot - that looks like a naked man.
Production designer Mark Eastham, 40, found the suggestive vegetable while shopping at Sainsbury's.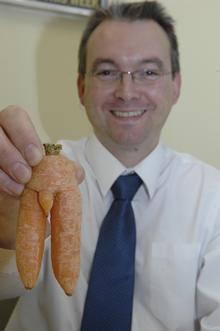 The married father-of-two, from Kennington and pictured left, picked up the carrot at the store in Bybrook, Ashford.
But Mark, pictured left, has no intention of eating the carrot.
He said: "I'm going to keep it as an ornament, although it is starting to droop a bit already."
Mark claims he picked up the carrot for the sake of enjoying a "That's Life moment" - a reference to the Esther Rantzen TV show which became a must-see in the 1980s for people who enjoy sniggering at rude, mis-shapen produce.
Have you taken a picture of strange-looking vegetables?
Please email them to us or tweet us @Kent_Online.