Who would live in a house like this?
Doctor Who fans - or Whovians as they are better known - are expected to materialise in Lydd for this curious cottage, which is taking bookings for people looking to exterminate the winter blues.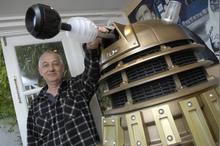 Fitted out by father-of-two Tony Bannister from North London, the holiday let is dedicated to his Doctor Who fan brother David, who died from a heart attack last year aged just 51.
He was a huge fan of the BBC science fiction series and his collection is housed inside a granny annexe called the apple barn, which sleeps two.
Mr Bannister, 50, said: "My brother was a big fan and it was such a shock when he died. He was born in 1957 so he was six-years-old when it started and he loved it right up until he died. He would have loved the new Doctor but sadly he never got to see him."
Dr John Smith's Cottage - named after the Gallifreyan traveller's alias on Earth - is proving to be just what the Doctor ordered.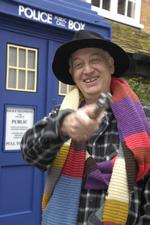 Mr Bannister continued: "His collection was massive, he had all the magazines and the TV21 comics plus all the action figures, books and the CDs.
"When I left home I lost interest in the programme, I thought I'd put away all those childish things, but he always had a fascination with it. When I first put it on the web I had about 20 hits a day, then when it was mentioned on a Doctor Who website it went up to about 2,000 hits a day."
The home of South Street features: a living room with wood-burning stove and exposed timbers, full-sized talking Dalek, a master bedroom and single bedroom, robotic K-9 watch-dog, kitchen/diner, a complete video and DVD collection of the TV show, a private courtyard, a selection of Doctor Who action figures and audio plays along with a walk-in TARDIS currently storing garden furniture.
There is also a range cooker, microwave, fridge, dishwasher, washing machine and various models of sonic screwdriver allowing guests to be a Timelord of the manor.
The television graphic designer added: "I think he would have loved it here. He had such a big collection and I thought it was a shame other people couldn't enjoy it as well. When I was putting the TARDIS up the children next door were saying 'wow, look at that' and they came over to see it and they just thought it was brilliant."
For more information and prices visit http://www.doctorjohnsmith.co.uk/
For more from Ashford, Folkestone and the surrounding areas, pick up a copy of your weekly Kentish Express.