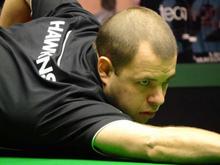 Barry Hawkins was keen to get out of York as soon as possible on Saturday – but not before booking his place in the second round of the UK Snooker Championships.
Hawkins (pictured), from Ditton, progressed into the last-16 by beating Liang Wenbo 6-4 in a tight encounter, before racing away from the Barbican for some valuable time with his family.
He made a blistering start, racking up a century break in the first frame of the tournament with an exemplary 101 keeping Wenbo, from China, a mere spectator.
After making it 2-0, and then leading 3-1 at the interval, Hawkins was placed under pressure when a century break of his own put Wenbo 4-3 ahead.
But Hawkins rallied once more and took the next three frames to secure a meeting with either Neil Robertson or Tom Ford on Tuesday.
"It was a tough match, a very tough match," said the 33-year-old. "I don't think I missed hardly anything whether that be long balls or short pots, and Liang played really well too.
"I thought I played well throughout. I have more confidence after winning some tournaments and I think that played a massive part in it.
"I'm delighted to be in the next round, and it doesn't matter who I face I will go into it confident after beating Liang.
"Straight after winning I went straight home as I'd been away for five or six days and wanted to go home and spend a couple of days with the family and see my little boy and my wife.
"But I am looking forward to getting back out there and I want to go as far as possible."
When the UK Championship seeding was decided, Hawkins was ranked within the top 16 and therefore qualified automatically but he now finds himself in a battle to become a permanent part of the elite.
He is competing against the likes of Mark Davis and Martin Gould to be inside the top 16 at the end of the competition.
Hawkins – who earlier this year won his first ranking title, the Australian Goldfields Open – believes that heightens his need to have a successful week in York.
"I've been in the top 16 before and then had a terrible season and now the rankings are up and down all of the time," he added. "I'm a different player now. I feel like I belong here and hopefully I can keep playing well."
British Eurosport is the Home of Snooker, showing 19 tournaments this season including the World Championship, UK Championship, the Masters and all ranking events, available on Sky (410/411) and Virgin Media (521/525) or online/on mobile via eurosportplayer.co.uk