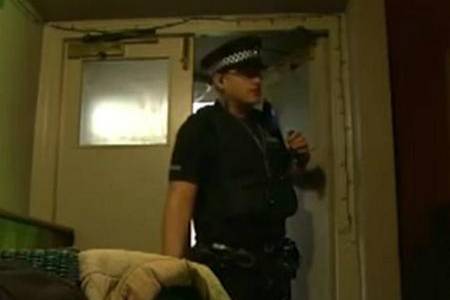 When police received a report of blood-curdling screams from a Tunbridge Wells pub, an officer was dispatched to the scene.
But the bobby who went to investigate in the basement of the Sussex Arms didn't discover a bloodbath - but found himself on the set of a horror movie!
A concerned passerby had called Kent Police to say they had heard a woman screaming inside the closed Nevill Street venue.
The officer discovered the screams were actually from actress Hannah Lowe - tied to a chair in the middle of the cellar surrounded by cast and crew about to undergo the latest take of a blowtorch torture scene.
The officer is heard to say: "Hello, is everything alright? We had a call from a passerby saying there was a woman screaming in the pub."
He was reassured by the crew he had actually stumbled onto a film set and thanked them for their time.
Producer Hayden West said he was not surprised the realistic scene raised the alarm.
He said: "Hannah was screaming very loudly and because she wasn't very well they really weren't very nice screams
"The officer popped his head in the door and asked if there were screams, realised what was going on and left.
"I didn't really pay any attention to it, there was so much to do, we just got back on with stuff."
Brighton-based Substantial Films were shooting the scene last Monday afternoon as part of a campaign to raise £30,000 for the psychological horror film Backtrack.
A Kent Police spokesman confirmed an officer from the force visited the pub after a report from a member of the public before realising it was a film set.