by Jenni Horn
The Theatre Royal theatre in Chatham was built in 1899 but less than a year later, disaster struck when a fire tore through the building.
Burning backdrops crashed to the stage, and the theatre was engulfed and damaged seemingly beyond repair. But despite utter devastation, the theatre was rebuilt and operating agains within seven months.
The auditorium was huge, accommodating 3,000 seats. It was among the first to use electric lights, and no fewer than 1,000 bulbs lit the stage.
Many actors and actresses who later went on to achieve national fame, appeared on its playbills. Coronation Street actress Betty Driver, the Rovers Return barmaid famous for her lunchtime hotpot, was among them.
In the early days, it was rollicking music hall acts, but in 1947 the Royal was re-launched as a repertory theatre with a performance of Pink String and Sealing Wax starring John Le Mesurier, later of Dad's Army fame.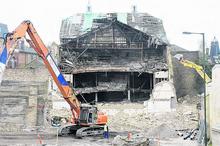 The opening ceremony was performed by Dame Sybil Thorndike, who grew up in Rochester. However she became lost in the fog on the drive down from London, so the opening was carried out after the first act.
But with the popularisation of television in the 1950s, audiences dwindled. In 1955, the stage lights went out for the last time. Parts of the premises were hived off for shops and a warehouse.
But in the 1980s a campaign was started to return the theatre to its former glory. Originally it was estimated that the project would cost £14 million, a figure which later jumped to £20 million. The restoration project was hit when a lottery bid failed and then, water, weather and frost all took their toll on the building.
Despite support from stars and local people, the theatre was sold in 2004.
Partial demolition was granted two years ago. The work began on April 18 after a safety inspection ordered by owner Chatham House decided the building was in danger of collapse.
The Theatre Royal was opened in 1899. A campaign to restore the Grade II listed building failed in 2004 as costs soared.

Poster of Theatre Royal, Chatham

Inside view of the theatre taken when there were still hopes the building could be restored

Street scene showing Theatre Royal

Happier days - Theatre Royal Trust celebrate the historic venue's centenary in 1999

The End - Demolition underway at the Theatre Royal, Chatham
Theatre Royal