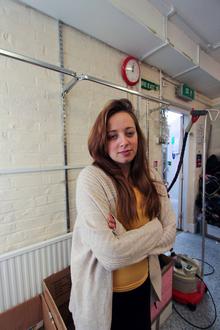 A charity shop manager has issued an urgent appeal after 14 bags of stock were destroyed in a blaze.
Holly White (pictured right), who runs the Demelza branch in Gillingham High Street, is pleading for donations before supplies run out.
Holly had just taken a big delivery, which she was storing in a shed behind the shop.
It is believed the fire last Wednesday night may have been started by a squatter who had been sheltering from the cold in the outhouse.
Holly, 23, who has run the business since it opened more than a year ago, said: "We had been relying on that stock to get us through the next two weeks, but now it has all gone up in flames.
"Luckily the shop was not affected, although we can still smell the smoke. Revenue from the shops is massively important to the hospice.
"It's not until you go there and see the work that goes on there that you realise that every penny helps."
Holly is asking for people to have a clear-out as soon as possible so she can replenish her shelves.
She said: "We are after anything we can get our hands on, but we are particularly short of women's tops."
Donations of clothes, books, DVDs, small items of furniture and bric-a-brac will all be gratefully accepted.
There is also a gift aid scheme which can boost the charity's coffers even more.
Police are investigating the cause of the fire, which broke out at about 8pm.