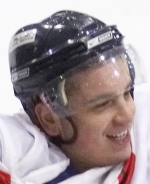 Invicta Dynamos' two games in the NIHL League South Division 1 went to form at the weekend.
Kevin Parrish's side suffered a 5-3 defeat at leaders Wightlink Raiders on Saturday and beat bottom side Solent & Gosport 10-2 in Gillingham on Sunday.
Invicta are the only side this season to have beaten the Raiders in the league and they pushed them close again.
But they bounced back with a big win over Solent & Gosport at Silver Blades.
Anthony Leone, pictured, struck Invicta's opening two goals and two from Justin Noble made it 4-1 by the end of the first.
Peter Vaisanen, Noble, Arron Strawson, Jack Tarczycki and Nicky Lewis were all on target in the second, as Invicta surged into a 9-2 lead.
In the final session Noble hit his fourth to complete the rout.