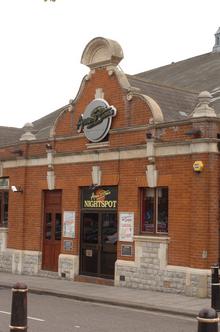 by Dan Bloom
A man has been arrested on suspicion of attempted murder after a stabbing at a Rochester nightclub.
Police and ambulance crews gathered outside the Casino Rooms, in Blue Boar Lane, off Rochester High Street, 10 minutes before closing time in the early hours of Saturday.
Kent Police said an incident that began in the club, which was hosting a "Frisky Fridays" night until 3am, spilled onto the pavement.
It appeared the 25-year-old victim, from Rochester, knew his attacker.
He needed surgery after suffering what were believed to be four stab wounds to his hip, torso, shoulder and forearm.
He was treated in hospital where his injuries, also thought to include swelling and bruising, were described as serious but not life-threatening.
It is believed police were able to recover a knife at the scene and examined CCTV footage from the nightclub.
Club owner Aaron Stone is a director of the Safer Medway partnership, which aims to cut night-time crime.
He said: "The incident took place in Blue Boar Lane and not inside the venue. A small pen knife was found on the road and not in the venue."
He added: "We are assisting the police in their investigation and the venue continued business as normal on the following night without incident.
"Whilst this incident is indeed both unfortunate and unpleasant, we remain fully committed to public safety and can assure the general public that Rochster is a safe place to visit and socialise."
The attack happened at 2.50am on Saturday.
A 24-year-old Sittingbourne man was arrested on suspicion of attempted murder and bailed while officers continued their investigations.
A Kent Police spokesman said: "A man was arrested on suspicion of attempted murder following a report of a serious assault.
"The 24-year-old from Sittingbourne has been released on police bail pending further enquiries.
"The victim is a 25-year-old from Rochester. His injuries are serious, though not life-threatening. It is understood he knew the suspect."