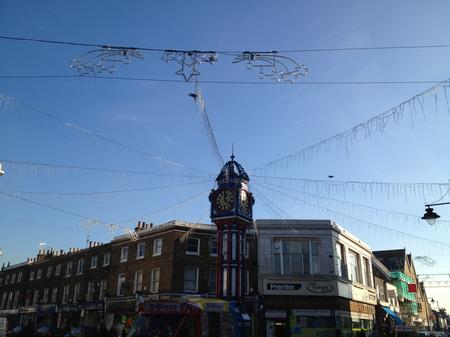 The future of the Sheerness Christmas lights is in the balance, but this year's display has been saved at the 11th hour.
This year's illuminations will go ahead thanks to last-minute funding of £600 from the Sheerness Town Team's High Street Innovation Fund and around £2,000 from Cllr Adrian Crowther's community grant.
The Sheerness Christmas Lights Committee consists of Martin Fitch, owner of BA Fitch Newsagent, and Sheila and Bill Smith, of Rainbow Jewellers.
Mr Fitch warned that more involvement and funding will be needed next year or the lights might not happen.
He said: "We have got the finances in place. We are just putting up the existing lights we have but then next year it will be the same old battle to get funds.
"We are going to have a long hard think about this and I don't know the way forward."
He said he would like to get more people on board with new ideas and he would welcome any suggestions.
This year's cash has been spent on repairs and putting the display up, but there is nothing left in the pot.
The theft of £150,000 worth of lights from their storage place at the back of the High Street last year means Broadway, Sheerness, may go without this year.
The Sheerness Enhancement Association for Leisure (SEAL) has put fairy lights up, which centre on the Clocktower.
SEAL secretary Brian Spoor said: "They look quite nice; not so much during the day, but when they come on the magic starts.
"We have had to replace some strings that got damaged when they were taken down last year."
Mr Spoor said he was disappointed not to be putting a tree in The Crescent this Christmas. When one was installed last year it was vandalised.
He said: "I'm not going to be putting anything up at vandal level."
The big lights switch-on will take place at the end of the lantern parade through the town today (Saturday).
People are asked to meet at Beachfields, Sheerness, for a 4pm start.
Chris Reed, from Big Fish Arts, which organises the procession, said there will be spare lanterns available so anyone can come along and join in.