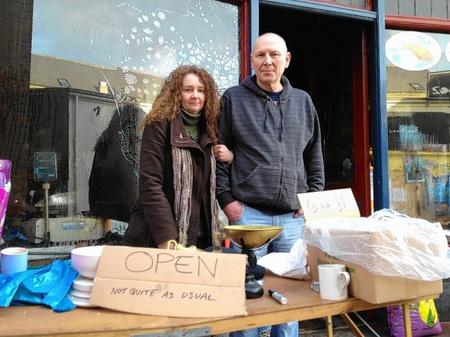 Pet shop owners have moved back into their shop two months after an arson attack killed dozens of animals and destroyed stock.
A fire at Sheppey Aquatics and Pet Supplies, on December 16, left Paul and Gabi Gander worried for the future of their business.
They have been selling stock at the front of the shop in Rose Street, Sheerness, under a marquee since then.
Mrs Gander said: "We have moved back in temporarily. It is getting too cold to stand outside.
"They have cleared out all the rubbish so we are able to put our tables back.
"We are waiting for the decorators and the builders and electricians and things to come in so hopefully that shouldn't be too much longer."
The couple have not yet received any money from their insurance.
Mrs Gander said the damage runs into tens of thousands of pounds and the stock alone was worth about £15,000.
She added: "We would like to thank all of our regular customers. They have been absolutely remarkable and very supportive of our shop."
No arrests have been made in connection with the arson attack. A police spokesman said officers are continuing with their investigations.
Anyone with information is asked to call police on 101, quoting crime reference XY/038432/12