A fundraising campaign is under way to help pay for life saving medical treatment for Gareth Harnett from Ramsgate who suffered a massive heart attack on holiday in Thailand at the weekend.
Gareth, 29, was in a coma but friends report he has since come round and is able to make vague communication through nodding, although his condition remains critical but stable.
Gareth collapsed on Saturday with what was thought to be an asthma attack just days into a Thai holiday at a beach resort in Phuket, where he was with five friends, three who live in Thanet and two former residents.
Speaking from Phuket, childhood friend Bobby Alamouti said: "Gareth is in a real state but at least he is out of his coma.
"The first we knew was when we returned from a spot of sunbathing and the hotel reception said he had been taken to hospital.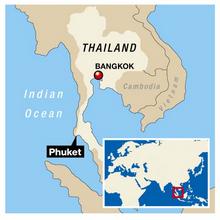 "We found him but the hospital was absolutely terrible - Gareth was sitting on a bed with some Thai men who were clearly extremely ill, and there were stray dogs on the wards.
"A staff member told us he would not get properly looked after.
"We couldn't leave our mate there to possibly die so we took him to a far better hospital that was recommended to us.
"He is there now in a private room and being cared for, hooked up to life support machines. We are taking it in turns at his bedside to help him pull through."
Gareth travelled without holiday health insurance and the hospital bill is around £2,300 a day, with it estimated he will be there for at least three weeks before any further healthcare decisions can be made.
Bobby, who runs ADL Brickworks in Thanet, added: "We all chipped in to find the money to keep Gareth in a decent hospital, but it is extremely expensive."
Patrick Dyett, another of the holiday party, is also a schoolfriend of Gareth's.
He immediately stumped up £6,000 to ensure that initial fees would be paid.
"the support has been staggering. people we don't know are chipping in what they can afford - a single mum on benefits managed to give us a tenner" – gareth's pal bobby alamouti
Meanwhile a fund-raising campaign has been mounted across the social media with around £7,500 already raised from friends, acquaintances and strangers.
Bobby said: "The support has been staggering. People we don't know are chipping in what they can afford - a single mum on benefits managed to give us a tenner, which was fantastic.
"It restores your faith in human nature when people band together to help someone who is in a real mess."
Another friend Mark Taylor is among those rallying local support.
He said: "People are being amazing. Pubs like Cramptons, The Charles Dickens, the San Clu, and Enoteca stepped in straight away, as did Mark Ezekiel at the Dalby Cafe in Cliftonville and even Crusties the bakers had a whip round.
"Every little helps - we are determined to make sure Gareth has the best care possible."
If you want to make a donation, go to www.pledgie.com and search for Gareth Harnett's fund raising page.