Bohemian Treats is the brainchild of Medway-based baker Petra. Growing up in the Czech Republic, she helped her mother cook in the kitchen from a young age. Inspired by these family recipes, she often fantasised about setting up her own business. One morning, she woke from a vivid dream where she was baking the sweet delicacies from her childhood, and it felt so right! Spurred on by her passion and craft, she is now bringing delicious, handmade treats to people all across Kent.
There is a wide variety of treats to indulge in, including an array of flavoured cupcakes: Lemon Cookie Cupcakes, Chocolate Cookie Cupcakes, Salted Caramel Cookie Cupcakes and Strawberry Cookie Cupcakes. Customers can also choose from Walnut Cookies with Coffee Buttercream; Biscoff Treats; Chocolate-decorated Coconut Macaroons; Custard Cookies with Raspberry Buttercream and White Chocolate; Peanut Butter Cookies with Salted Caramel and Chocolate; Almond Mini Cookie Cake; and Traditional Homemade Apple Strudels. Some larger cake options include Plum Cake, Very Berry Crumble Cake and Apple Cake with Salted Caramel Drizzle.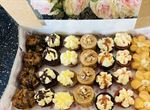 Bohemian Treats has a 5* Hygiene Rating. Petra's bakes contain food allergens such as eggs, milk, peanuts, tree nuts, soy and cereal (gluten). Everything is handmade and baked fresh to order using free-range eggs. All treats containing buttercream should be stored in a fridge and will usually last for 5-7 days. Any treats without buttercream can be stored in a cool place and will last for about 2 weeks.
The company is renowned for its signature platters of smaller treats, which offer different flavours so there's something for everyone. To cater to all occasions, Bohemian Treats offers a selection of box types. Small boxes contain a total of 16 treats in 4 different types. Meanwhile, larger boxes - ideal for events and get-togethers - feature 28 treats in 7 different types. There are also personalised options, which can consist of a minimum of 5 treats per box and cost as little as £6.80. A personalised box of 42 delicious treats is priced at £55.90.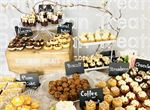 So how can you get your hands on these tasty bakes? It's really simple. Browse through the options available on the Bohemian Treats website and make a selection based on the type, flavour and quantity you're looking for. Then contact Petra via phone or email and place your order. The business kindly asks for a 20% deposit via bank transfer, and the remaining balance can be paid either by card or cash on collection day. Delivery is available for certain postcodes, including ME1, ME2, ME4, ME5, ME7, ME8. On the second and fourth Saturday of every month, Bohemian Treats is at The Rochester Vintage & Artisan Market.
If you're planning a wedding, birthday, baby shower or any other type of event, Bohemian Treats can help make it a special experience. Ordering 1-2 weeks in advance is advisable, but if you need a slot for Christmas, get in touch as early as possible to avoid disappointment.