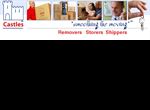 Removals in Deal, Kent
We are a family owned and operated Removal and International Overseas Shipping company based in Deal but covering the whole of the South East.
We were formed in 1972 and choose the name Castle as we have five historic castle sites in our immediate area and as we all know, everyones home is their castle
Whether you are moving locally,nationally, across europe or worldwide, Castles will ensure that you belongings are treated carefully and with respect. At Castles we are in the business of "smoothing the moving" process.
Removals in Deal, Sandwich and the surrounding areas
We are experts in Local, UK and domestic removals and our services include:
Commercial removals
International removals and air freight
Secure storage – furniture, pianos, antiques, garden furniture etc
Commercial storage – documents, office furniture etc
Offsite document and data management

We also supply
Security shredding services
Packaging material
Self pack packaging material
Ring & Reserve ordering system
All major debit/credit cards accepted
Based in Kent we offer easy access to Europe for International Removals
Hi Peter, Just wanted to say a huge thank you to you and the guys for making my furniture removal, especially the hot tub, to Bulgaria a nice smooth, quick process.
With so much to organise it was great to be able to hand this aspect of the process over to you and the packaging/labelled boxes you prepared have been a massive help this end.
All the very best and again, thank you all."
Michele (Deal to Bulgaria)